Landscape Lighting & Fiber Optic Pool Lights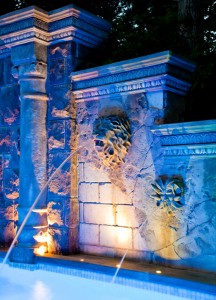 Cipriano Landscape Design & Custom Swimming Pool's award-winning custom swimming pools and landscapes are a relaxing oasis by day and an elegantly entertaining hot-spot by night. With the use of fiber optic in-floor pool lighting, watch in amazement as your very own antique-style pool and spa transform into an aquatic dance floor, "reflecting" a starry night-sky. Around your inground pool, fiber optic deck jet fountains can be used as accents creating a flashy fountain effect that brings energy and motion to your backyard nightlife. Volcanic fire-pits nestled alongside luxury pool designs illuminate and ignite backyards with a dynamic sense of awe and wonder that only fire can evoke, perfect for late-night gatherings.
Don't allow the setting sun to put an end to the depth and character of your backyard or swimming pool. With LED, fiber optic and landscape night lighting, your new outdoor living area can be enhanced at night and enjoyed as long as you want the entertainment to last. Outdoor lighting provides functional usage to custom natural stone patios and outdoor kitchens and grills; lighting also provides a safe environment to entertain poolside well into the night. Outdoor fireplaces emit light and warmth to combat the night's cool air, acting as a warming retreat for friends and family. A full, diverse landscape accented by strategically placed outdoor lighting contributes to a secluded, yet lively ambience. Whether a romantic night-out for two or an all-night social soiree, Cipriano's custom landscaping and swimming pools make "going out" a lot easier simply open your backdoor!
Why hire Cipriano for your landscape & swimming pool project?
Cipriano Landscape Design And Custom Swimming Pools is a Four Time "Top 50 Pool Builder" in the United States by Pool and Spa News.
Cipriano also earned the 2011 Exemplary Achievement Award from the Mason Contractors Association of America.
In 2014, Cipriano also received the Coverings Installation & Design Awards for an all glass tile swimming pool.
Cipriano Landscape Design & Custom Swimming Pools Awarded at The Piscine Global Expo's 2014 Pool Vision Award in Lyon, France.
2014 The National Landscape Award of Excellence *Grand Award* from the Professional Landscape Network (PLANET).