4x Best Pool Design Award Winner
4X Best Design Winner by the North East Spa & Pool Association
2021 Best Pool Design & Construction
NESPA awarded Cipriano Custom Pools the best design and construction of 2021.
4x Top 50 Pool Builders
Pool and Spa News named Cipriano as a Top 50 Pool Builder for 4 years.
See The World Famous Violin Pool
See our world renowned "Violin Pool" project
All Glass Tile Pools
(CID) Glass Tile Installation Award
Piscine Global Award Winner
Piscine Global Award Winner - Lyons, France.
PINNACLE AWARD WINNER

LUXURY
POOLS

MAGAZINE
TOP
LANDSCAPE

DESIGN WINNER
NJ

LANDSCAPE

CONTRACTORS
PROJECT HIGHLIGHT
Perimeter Overflow Glass Tile Pool
Our goal for the project was to create a one of a kind poolscape unlike any other pool the homeowner had ever seen. The concept of this freeform pool was to captivate the user with its beautiful curves, engage them with technical features such as the vanishing edge wall and perimeter overflow edge also attract them to the pool with the large waterfalls.
LUXURY SWIMMING POOL & LANDSCAPE DESIGN
If you're looking for a complete backyard oasis, look no further. We specialize in the design and construction of all-glass-tile pools & spas, vanishing edge swimming pools, perimeter overflow pools & spas, fiber optic pools and pools with natural grottos & waterfalls, each one crafted meticulously with expert precision!
Established in 1989, Cipriano Landscape Design and Custom Swimming Pools is proud to be celebrating its 31st year in business! The company began as a custom landscape and masonry business and expanded into luxury inground swimming pool construction in 2001. New Jersey Licensed Landscape Architects  head the landscape architecture office of the company.
When you hire Cipriano for your custom swimming pool project, you can feel confident knowing that, for the last 19 years, we have successfully designed and built some of the most difficult and intricate swimming pools in the industry. Our completed projects include all-glass-tile swimming pools and spas, vanishing edge swimming pools, swimming pools with grottos and natural stone waterfalls, fiber optic swimming pools, perimeter overflow swimming pools and spas, and pools with acrylic panels.
Does your pool design include landscaping and masonry? If so, our staffed masons have set over 200,000 square feet of natural stone patios. On our 10-acre tree farm located in Mahwah NJ we grow hundreds of exotic specimen trees and plant material used on our landscape projects. We satisfy all of your luxury outdoor living needs under one roof.
Cipriano Landscape Design and Custom Swimming Pools is a 4 time Pool & Spa News  national "Top 50 Pool Builder" and holds over 90 landscaping, masonry, and unground swimming pool awards, including 20 international pool design awards and a 2014 Pinnacle Award from Luxury Pools Magazine. Hiring Cipriano ensures a quality investment. Not only will you benefit from our award-winning experience, but also you will feel the comfort of knowing that your custom landscaping, luxury inground pool, natural stone masonry, earthwork, and lighting are all designed, installed, and serviced by Cipriano's on-staff specialists.
Why hire Cipriano for your landscape & swimming pool project?
Cipriano Landscape Design And Custom Swimming Pools was named a 4 TIME  "Top 50 Pool Builder" in the United States by Pool and Spa News.
Exemplary Achievement Award from the Mason Contractors Association of America.
Coverings Installation & Design Awards for an all glass tile swimming pool.
Cipriano Landscape Design & Custom Swimming Pools Awarded at The Piscine Global Expo's  Pool Vision Award in Lyon, France.
The National Landscape Award of Excellence *Grand Award* from the Professional Landscape Network (PLANET).
FREE 2021 Dream Backyard Guide
Download our free 10 Steps To A Dream Backyard guide to help you make educated decisions on your journey toward your perfect backyard paradise. Explore all the options available to get the PERFECT pool & landscape you've always dreamed of.
Enjoying the view? Take a look at all of our Featured Full Project Case Studies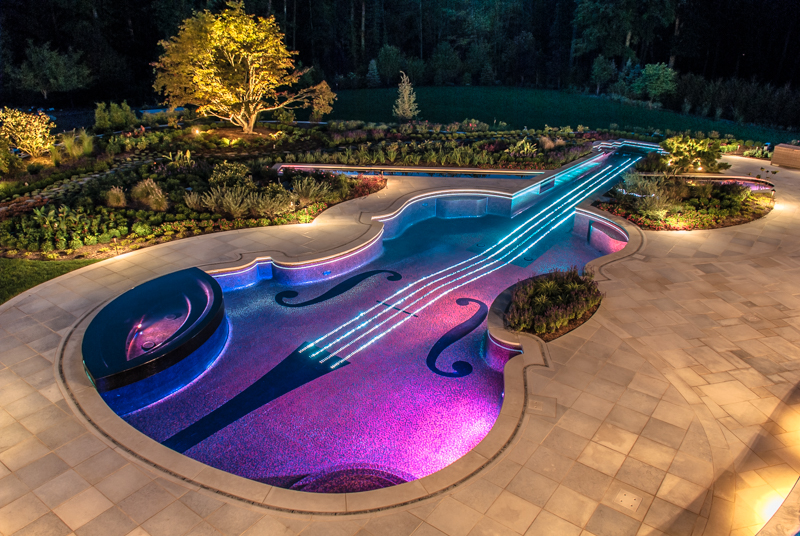 Cipriano Landscape Design Provides Some Helpful Information On Staying Within Your Budget When Building A Swimming Pool – Bergen County, NJ Are you in the market for a swimming pool?…
Planning a deck build? Check out these helpful tips! An outdoor deck is a place to relax, entertain, and enjoy your property. From grilling to reading the latest novel, this…
Looking for some tips on keeping the greenest lawn on the block? Cipriano Landscape Design offers all the information you need! Sometimes the grass really is greener on the other…