Top 50 Pool Builder describes his ten best swimming pool resorts around the United States. Cipriano Landscape Design- Northern, NJ
Some of the best residential swimming pools draw inspiration from the top resorts around the country. All of these resorts are designed to create a relaxing paradise featuring every amenity possible, within its wonderful setting, whether that is an inner city, dessert or beachfront property. Check out some of the best resorts from around the country!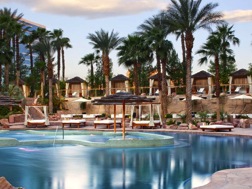 Hard Rock Hotel and Casino- Las Vegas, Nevada.
Fitting for the heat of the Nevada summers, this swimming pool area is designed with a tropical theme. The pool and its surrounding 5-acre area are reserved for guests only. The area features more than 50 Tahitian-style cabanas and 25 daybeds along with its own private beach and a bar and grill space. For a more private escape, the Breathe Pool provides a nice ambiance and views of the Vegas Strip. For those looking to indulge in the full Sin City experience, the Paradise Pool is best known for its weekend REHAB pool parties.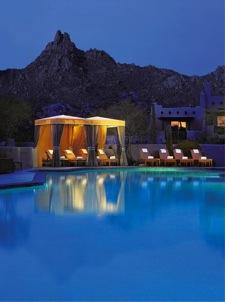 Four Seasons Scottsdale at Troon North- Scottsdale, Arizona
With an incredible view of the Arizona dessert, the Four Seasons pool is situated amongst Saguaro cacti and other dessert succulents. The incredible mountain backdrop and sweeping valleys below create a beautiful and picturesque place to sit and relax in the summer heat. The pool area is a small intimate setting amongst its backdrop and features a bi-level design with one level exclusively for adults only.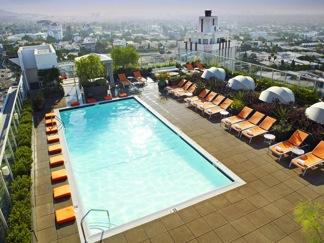 Andaz Hotel- West Hollywood, California
Located right in the middle of the iconic Sunset Strip the Andaz Hotel is a little slice of paradise in the middle of an urban setting. The rooftop pool features a panoramic view of the Hollywood Hills and downtown Los Angeles. With private cabanas, hand made cocktails and other posh amenities, the resort offers everything needed for guests to live like A-list celebrities in the center of Hollywood.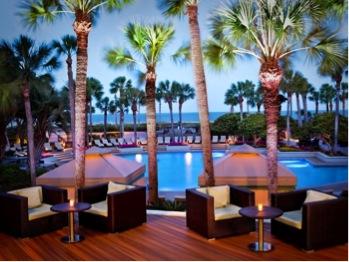 West Hilton Head Island Resort- Hilton Head, South Carolina
Hilton Head is revered for its wonderful beaches and this resort is a beachfront getaway right on the Atlantic Ocean. The resort recently underwent a huge renovation and now features three pools and whirlpools on a multi-tiered property. The resort is very family friendly and offers a nearby bar and grill open all day long. Oversized cabanas with TVs and mini fridges provide everything you need for a relaxing beachfront getaway.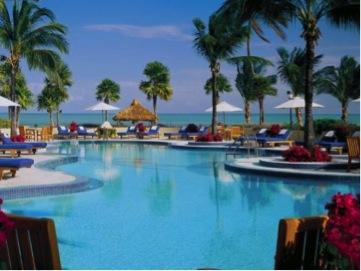 Cheeca Lodge and Spa- Islamorada, Florida
The Cheeca Lounge features a tropical paradise with two swimming pools situated in a grotto setting surrounded by palm trees. The oversized chaise lounge chairs allow guests to comfortably sip cocktails while relaxing and retreating into the Florida Keys state of mind. The pool provides a picturesque view of a private beach and adjacent salt-water lagoon. If you want something really peaceful, the adult only spa features private cabanas and butler service.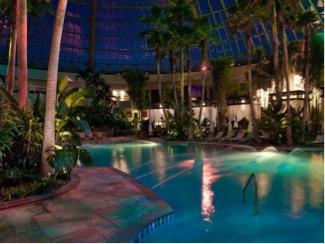 Harrah's Resort- Atlantic City, New Jersey
Harrah's features a heated swimming pool set inside an indoor glass dome. The dome is climate controlled to be 82 degrees year round to provide that tropical atmosphere in New Jersey. There are six secluded hot tubs and luxury cabanas with flat screen TVs, iPod docking stations and couches. During the summer an adjacent outdoor deck is open to allow guests to catch some sun while enjoying a nice breeze from the Atlantic Ocean.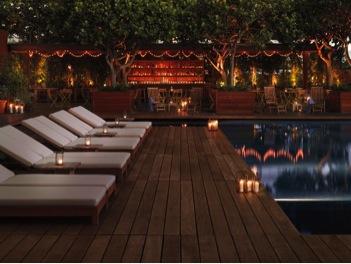 The Modern Hotel- Honolulu, Hawaii
The Modern Hotel captures all of the relaxation of the famous Waikiki beach. The resort boasts two swimming pools with tree-lined winding pathways for casual recreation. The Sunrise pool was built with shallow lounging areas filled with plenty of chaises for all day sunbathing. The adults-only infinity edge lagoon has more lounge chairs and hammocks that are set surrounding a beach and boasts incredible views of the ocean.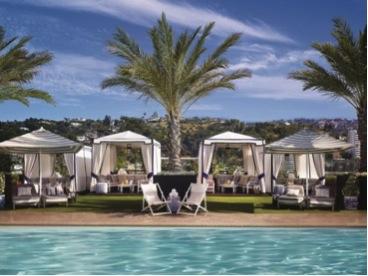 The London West Hotel- Los Angeles California
The pool at this resort is set in the middle of a spacious rooftop deck with a garden setting.  The whole area features a heated pool, fire pit area, crafted cocktails and food; everything a guest needs to feel like a VIP. The rooftop offers panoramic views of West Hollywood and private cabanas can be rented for an afternoon in the California sun.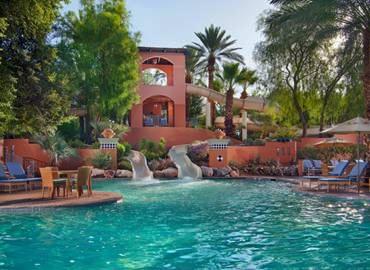 Fairmont Scottsdale Princess- Scottsdale, Arizona
With multiple swimming pool destinations in one resort the Fairmont Scottsdale Princess is great for accommodating adults and families. The Sonoran Splash and East pool, two children friendly pools, feature 200-foot water slides and other water activities. The South and Casita Pools offer adults their own retreat with hot tubs and cabanas that come fully stocked with flat screen TVs and a refrigerator. One last adult-only Mesa pool is set on the rooftop with private cabanas and an incredible view of the surrounding mountains.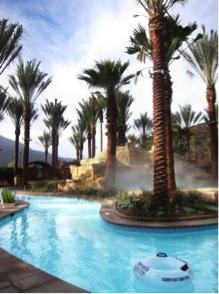 Harrah's Resort Southern California- Valley Center, California
The Harrah's in Southern California is a dessert retreat that features an expansive deck with plenty of sun, palm trees, waterfalls and three swimming pools. The resort even has its own lazy river for casual relaxation in the water. Private cabanas can be rented daily, which include flat screen TVs, mini refrigerators, couches and other amenities.
See what inspiration and ideas you can draw from some of the best pool resorts around for your new swimming pool project. If you need help contact an experienced pool builder and landscape architect who can help you.